Macular Degeneration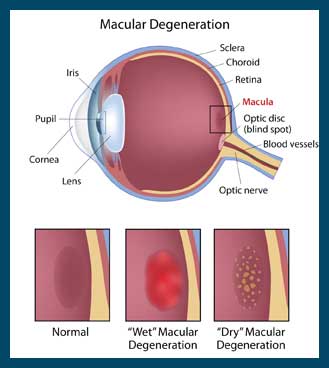 Nevada Retina Associates offers cutting edge treatment for patients with macular degeneration. This condition is the most common cause of central visual loss in individuals over age 60 in the United States. There are two major forms of macular degeneration, the wet and dry types. The wet type, where new abnormal blood vessels grow under the retina and bleed and leak, is responsible for 90% of visual loss in this disease. The dry form of macular degeneration infrequently causes rapid visual loss.
Nevada Retina Associates offers a wide array of treatment options, including pharmacologic treatment, with agents such as Avastin and Eylea, photodyanamic therapy (PDT), and laser. The goal of treatment is to try and preserve central macular function. Studies have shown that such treatments may decrease the rate of visual loss in individuals with active, wet form of macular degeneration.
Individuals with macular degeneration may also benefit by adding certain vitamins and Omega III fatty acids to their diets.
Download PDF (English) | Download PDF (Spanish)